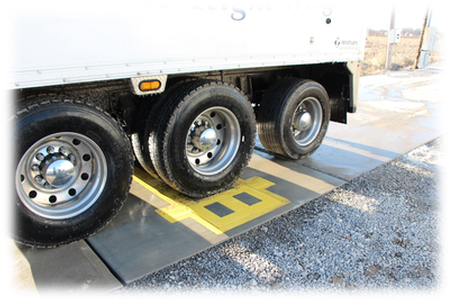 The AxleSurance Weigh System is an easy-to-install and easy-to-use slow-speed axle scale system that reduces install time, real estate, and operation time. The scale arrives precast and ready to set in place and a simple backhoe can both prepare the install site and be used to set the scale in place.
The AxleSurance Weigh System provides a lower price option for those customers that need to check-weigh their loads but don't have the space or need for a full-size truck scale. It is not a legal-for-trade scale, but proves a worthy investment for customers who want to better manage inventory and reduce their overload risks.

The AxleSurance Weigh System provides axle and gross truck weights that can be displayed, printed, and saved for easy record keeping. The unattended console provides a self-contained control unit that drivers can operate entirely independently and allow the transaction records to be saved and transmitted as CSV files for incorporating into the customer's ERP systems.
The AxleSurance Weigh System works best at slow, consistent speed (~3mph) and will calculate, display, and capture each individual axle as it rolls over the scale. It then sums the weights and prints individual axle and gross weights on the tickets. Tare weights can be prestored into the database or recorded with an in/out operation.