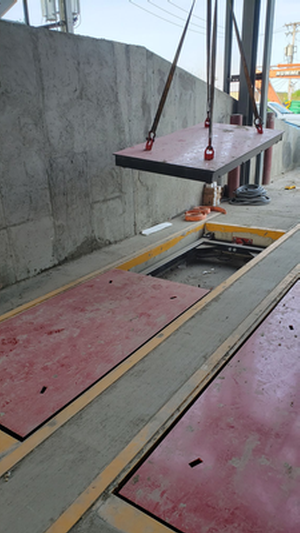 The HC Lift Deck scale is a special scale system designed specifically for transfer station applications. These sites pose unique challenges to a scale. The HC Lift Deck system is a special design that allows users to lift the deck off with ease to clean the pits and keep the scales running optimally. Resetting the scales don't require any special tools or recalibration, so the process is quick and easy as possible.
Instead of a traditional full deck scale, we separate the system into individual narrow platforms that act as their own individual scales which is then combined electronically into various weight readings. This configuration allows the scale to address multiple needs for the scale user.
Each system is tailored to the users' operation to ensure the proper configuration and platform sizes are installed to cover any potential truck traffic, without an overabundance of surface area to maintain. The core feature of this product line is the "Lift Deck" component. This allows the user to easily and quickly lift each scale deck out of the pit using their own equipment and without special tools. This then allows easy access to clean the pits and maintain the drainage systems. Resetting the deck is a breeze with self-centering cones and no need to reset the checking or recalibrate the scale.